Edition #3: Make Money from Helping People to Unsubscribe Emails
You can make a living from solving your own dilemmas / Important updates and milestones for Young Makers!
Hey there,
Every subscriber is a stakeholder and I want you to feel at home – like you're a part of this community. Here's some metrics on our growth so far:
8 paid subscribers and $220 in revenue (my first ever online income! 🙏)

2 subscribers in our paid mastermind group's first cohort (details at end of email)

80% of visitors came from Indie Hackers, Direct and Twitter.

67% open rate for previous newsletter (let's beat this record!)

26% clicked on links (click on links to support other makers and this newsletter)
My upcoming plans for the newsletter and community moving forward:
All free subscribers are welcome to join our Telegram group

Launching a "living experiments database" for paid subscribers

I apply the advice in this newsletter and business articles

I track the results, context and explain why it worked or failed

You get access to this and can reference it anytime. Use it to improve your business / product performance. Data is power.

I update this every day, if not weekly with dozens of experiments.
Subscribe as a paid member to get access to it.
I want to improve this newsletter. It would help me a lot if you took 5 minutes to do a 3 question survey!
Let's get started!
In this issue, I interview Danielle from Leavemealone.app and Kaito Cunningham from Usespred.com. Learn how they started their businesses and grow them. You can surely find some good ideas for your own product.
Key Takeaways for Young Makers
Focus on getting to ramen profitability asap

Keep your costs low

leverage lower costs of living if you can

choose tools that keeps your costs low

every dollar counts towards whether you make a profit or loss

If you're not happy working on a side project, you won't be running it as a business

Find good ideas by working on your own problems or dilemmas

Don't be afraid to pivot to a better idea if you have to

There are complementary alternatives to the subscription model

Use a proxy currency that that has value to the user

Credits (Leave Me Alone)

Free 100 subscribers (Convert Kit)

These can be useful for creating referral programs

Leverage different social channels to build an audience

use them to do customer interviews or market validation

use them to drive traffic for early user acquisition
Try these for yourself
Implement a proxy currency (credits, free subscribers, etc)

Start a new account on a social media platform (TikTok, Instagram)

Post at least 1 thing daily on your social media

Pivot that idea which you can't seem to find happiness in

List 5 problems / dilemmas you have and interview 10 strangers. Ask if you billed them now, would they give you their credit card? If yes, build it.

Cut any unnecessary costs now (don't spend on what doesn't create profit)

Start experimenting with charging your users
---
🙏 A Word From Our Sponsors
Being a maker can be mentally exhausting. It doesn't have to make you go crazy. Journal your thoughts with Mindwave, an All-in-one journal for work and life. Learn from your past. Be present. Improve your future.
Need to find out which tool is best for email? Or for a particular category? Check out Startup Resources. It has over 400+ hand picked tools, across 60 categories - something to use in almost every situation. Over 3000 entrepreneurs use this resource. Don't miss out!
If you are a software engineer or know someone who is, check out the Software Mentor newsletter by Phil Liao. The newsletter helps you to accelerate your software career. For junior engineers who want to get better, faster. For senior engineers to share the burden of mentorship.
---
Helping People to Unsubscribe Emails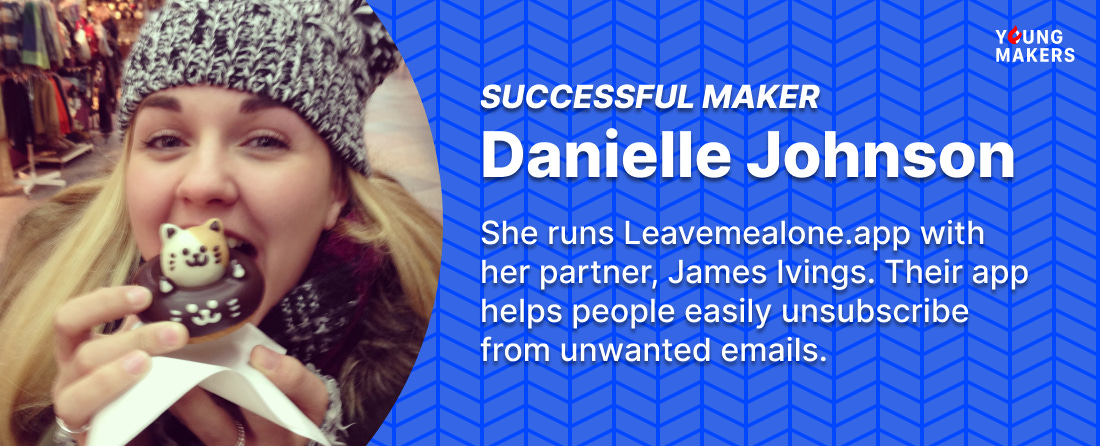 What did you make your first profit on?
I'm the founder of Leave Me Alone, a service to easily unsubscribe from unwanted emails. Leave Me Alone is my flagship product and primary focus, but it wasn't where my first maker-made dollar came from.
I'm a digital nomad and full-time traveller. For the past 3 years I have been travelling full-time with James Ivings. He's my partner, best friend, and fellow developer. We founded our web development agency Squarecat while on the road. We freelance sometimes, but our main focus is working on our own products. Our goal is to reach ramen profitability.
Ramen profitability means that we want to make enough money from our own products. Enough to live a comfortable life. As we spend most of the year in South East Asia we only need to make $2,000 a month to support us both very comfortably!
The first time we made any money from our own products was a couple of years ago. We had been trying to find our niche and we were experimenting with different things. We had a few ideas on the go, but our first profit came from UptimeBar. It was a simple OSX menu bar app that notifies you if any of your websites go down. It cost $5 for a license key and we put it live hoping for the best.
And... Someone bought it! When that first person paid, it was the best feeling in the world. We weren't quite on track for ramen profitability, but it was a step in the right direction. UptimeBar went on to make a few hundred dollars. We started then to focus on another idea that has now become our main focus and flagship product. This product is Leave Me Alone.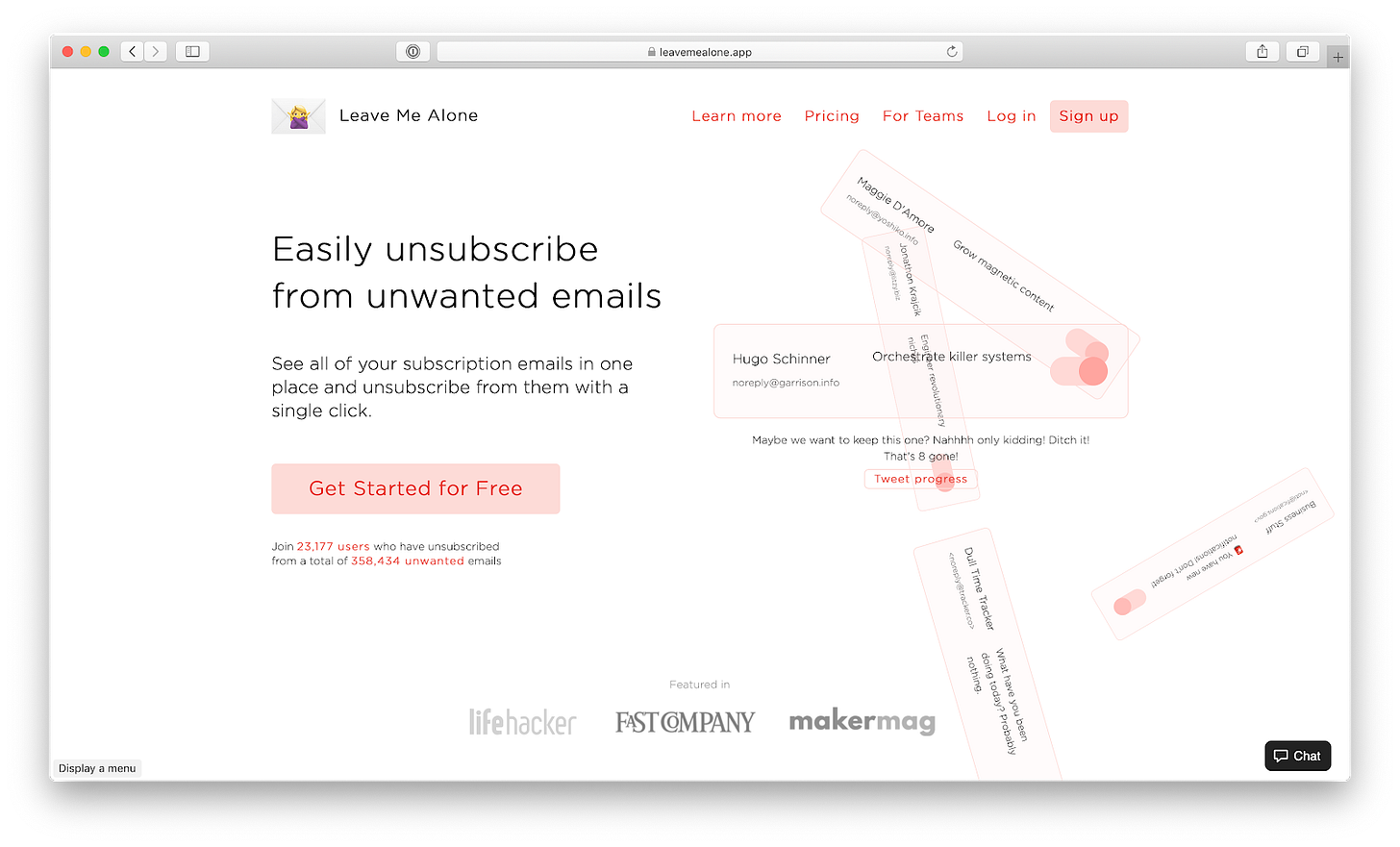 Leave Me Alone has averaged over $1,000 a month for the past year or so. Most of our revenue comes from one-time purchases. This makes our monthly revenue somewhat uncertain!
When did you decide to pivot?
Building UptimeBar was a fun experiment that gave us a chance to learn. We learnt how to build native OSX apps using Electron. But we didn't feel like we were solving a big problem with UptimeBar like we are with Leave Me Alone. We didn't enjoy the long build and deployment process when making changes. Or the Apple Developer licence costs to have a verified app.
We never got around to publishing UptimeBar to the app store because of the work involved. In summary, it was too much effort and not enough enjoyment. The limited development possibilities that meant we started looking at building another product.
Why did you make that product?
James and I spend a lot of time managing our emails, and neither of us enjoys it very much. Unfortunately, it's necessary to run a business. One thing that was getting out of control was the number of emails that plagued us. Marketing emails, newsletters and other subscription emails kept coming in. This was happening on our personal accounts. But our company email addresses were more public. They were in contact us links and on our websites etc. It was overwhelming our business emails too.
We searched for a service that would help us to clear out our inboxes from all the junk so that we could start again. We found a few that would help us for free, but as we are conscious of privacy. Given the rise in data-selling scandals, we check the products we use carefully. A closer inspection of these other services revealed disturbing facts. They made money by scraping and selling all our data for marketing.
Now, we have a dilemma of overwhelmed inboxes. Or having our information sold to marketing giants. We decided to make our own solution.
If you don't mind sharing, how much did you make?
We keep our expenses low so our profit margins are actually pretty high. We spend around $80 a month on infrastructure and services. Currently, we don't have any budget for marketing, so once Stripe has taken their fees then the rest is profit. You can see our expenses on our open page too!
How did you decide on the business model?
Our business model is credit-based pricing where one unsubscribe costs one credit. If we fail to unsubscribe for any reason then it doesn't cost any credits. This has several advantages. Customers can purchase the number of credits they need for the size of the mailbox. Credits never expire so customers can return anytime. They can return and unsubscribe from more emails in the future. It also allows us to incentivize social media engagement and repeat business. We can do all that by offering free credits for these actions.
We are often asked why we don't change it to a monthly subscription. But we don't believe that is in our customers best interests. This means that people don't need to return monthly to unsubscribe from emails. People do a big unsubscribe and can then set a reminder to return in a few months to clear out new subscriptions. Paying monthly for a service like Leave Me Alone doesn't benefit the user. We wrote a blog post about our pricing model here.
We do have a monthly subscription for small teams and businesses who get unlimited unsubscribes. This is aimed at teams who rely on emails to do their job and where any unwanted distractions and time wasted from extra emails and unsubscribing results in lost time and money.
Where is the product now?
Leave Me Alone has been stable and profitable for more than a year now. We are always adding new features to make it better at unsubscribing. We are currently working on adding support for more languages. We are also adding support for more complex unsubscribe flows. Our goal is that every difficult unsubscribe taking many steps and time will be gone. All with a single click in Leave Me Alone. As always, we are sharing our ideas and progress on Twitter and on our blog.
Any tips on keeping costs down?
Choose tools that will keep costs low. It's easy to do tasks manually until the need to scale is too great. Most founders and indie hackers are bootstrapping themselves to profitability. Especially in the beginning. A few extra dollars a month on additional services or unnecessary tools could be the difference between profit or loss.
What are you working on now?
Leave Me Alone as always! 
Interview with Kaito Cunningham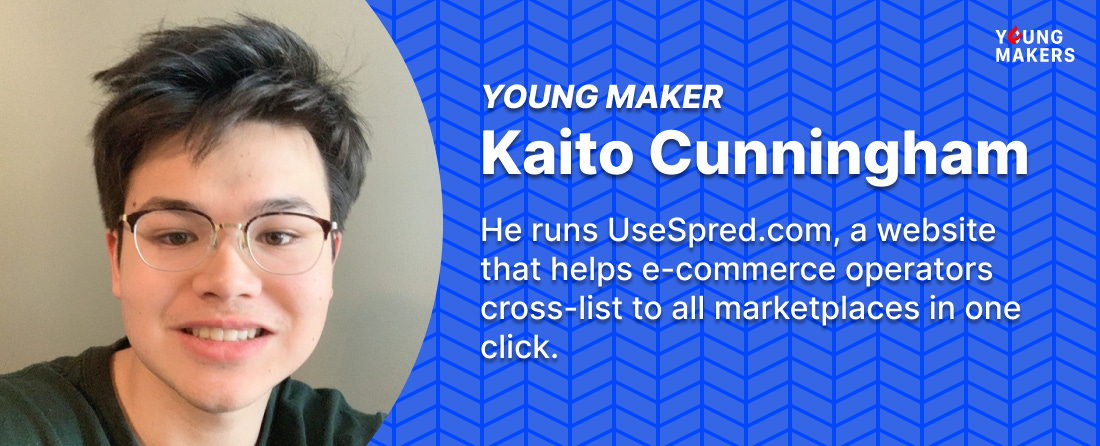 We have Kaito Cunningham from UseSpred.com. His product helps e-commerce operators cross-list to all marketplaces in one click. We have his flash pitch here. And we hope successful makers will read and reach out to provide their advice for Kaito.

Profitable makers, please reply to this email with your advice if you have any. It'll go in the next issue – help a maker out, get visibility.
What are you making?
It's time-consuming listing items on various marketplaces. There's Ebay, Poshmark, Etsy, Mercari, and Depop. I'm developing a SaaS to help solve this. Individual resellers can cross-list their items to secondhand online marketplaces with my app.
Why are you making it?
I noticed the problem myself when I manually listed inventory. I had to do that for many peer-to-peer marketplaces. It was time-consuming and laborious.
Shortly after, I validated the problem. I did this by speaking to about 100 clothing resellers. I used Ash Maurya's customer discovery interview templates in Running Lean to do this. After the validation, I thought it would be a cool idea to go ahead and build it.
What are you trying now to get to profitability?
As a founder who can't code, I've considered outsourcing my MVP. Or hiring a local contractor. After some time, I landed on building my MVP off of Bubble by utilizing the Ebay and Etsy APIs. To become profitable, my goal is to get my MVP up. This will allow me to start validating my hypotheses. After which I could start figuring out value-based pricing strategies.
How are the results so far?
$0 in revenue

1,390 Instagram Followers

184 Email Subscribers in Total

770 Website Visits the past 28 days

Total Marketing Spend is $20 in Reddit Ads at $0.40 CPC (10$ CAC for Reddit Ad Channel)

View all the metrics that I'm calculating in this google spreadsheet.
What's your biggest challenge right now that you need advice for?
I hired a freelancer to develop my Bubble MVP which allows a user to upload an item to Ebay and Etsy through one form.
My main challenge now is that most early adopters sell on two or more sites. This means that my MVP would only provide partial value. I'm trying to recruit a CTO/Co-founder as the next steps to building a code base. I've ran through a couple of interviews so far.
But what are the characteristics I should look out for? What are the questions I should ask as a recruiter and founder?
Got advice for Kaito?
Makers out there who have advice for Kaito, I would appreciate it so much if you could reply to this email with your advice.
Get Interviewed
Are you a maker who wants to promote a new product and help young makers? Want to relive your first profitable project?
Are you a young maker that wants advice? Reach out and I'll put your pitch to mentors and readers in one of our editions.
Email me at zhchuan.2016 <at> gmail <dot> com, or reply to this email.
---
Share Young Makers
Know a friend who wants to start a business or improve theirs?
Share this post with them.
---
🔥
Young Makers Mastermind Group
Want to launch your own newsletter?
• Launch and grow it to 50+ subscribers in 2 weeks
• Get video feedback of your newsletter setup
• Growth and monetization tips
If you're interested, there's only 4 slots at $50 per slot. If you try your best and do everything we go through in the mastermind group but don't get results, I'll refund you. Here's a testimonial from the current cohort:
Honestly, the amount of support I have found here, I haven't experienced anywhere else. Am really so thankful 🙏🏻 Thank you for doing this
Subscribe to this newsletter's $50 plan to join the mastermind group. Next cohort starts on the 25th May, Monday.
---
Looking for Sponsors
Reach out to 130+ subscribers and my 650 followers on Twitter. My audience are mostly makers who are some of the most passionate entrepreneurs on Earth.
---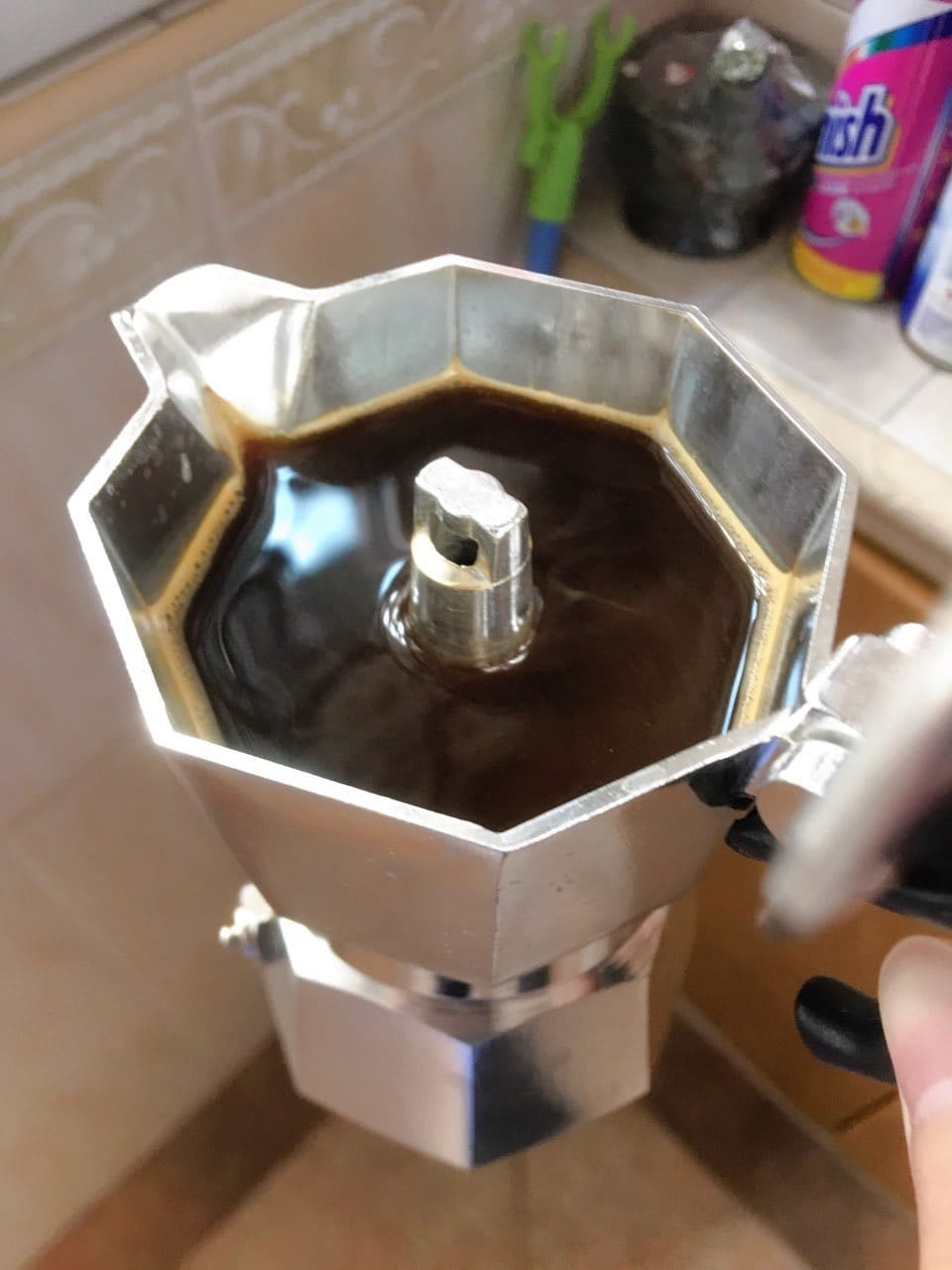 I wake up on mornings and brew my coffee either using a Moka Pot or a Nespresso machine. I heat up some milk and mix them into a latte, yum. Like a sort of ritual, I look forward to moments like these every morning. Applying the advice I see in my interviews, here's me adding a Buy Me a Coffee link 👇